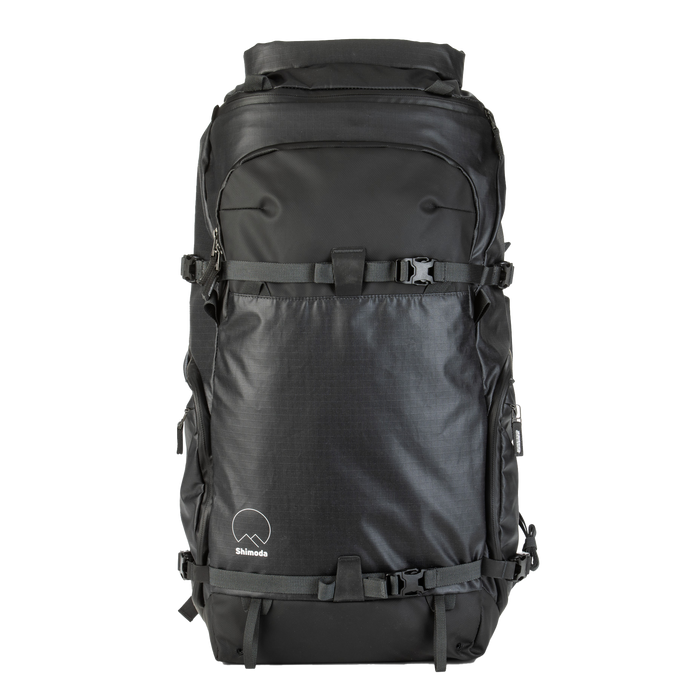 Shimoda Action X50 Backpack
Original price
$329.99
-
Original price
$329.99
Current price
$329.99
$329.99
The Shimoda Action X50 Backpack is the action sports workhorse. It's designed for photographers who need to carry a lot of gear yet still be agile and part of the action.
It features an adjustable harness to achieve a perfect fit, and removable belt to quickly streamline the bag for urban or event situations. A removable helmet holder, TPU ski compression straps and newly revised side-access system with YKK splashguard zippers round out the set of adventure-friendly features.
Like all Action X series packs, it has a space-efficient and expandable roll-top with quick access zipper. Finally, it delivers convenience to aggressive and time-sensitive action photography situations via its newly improved side camera access.
*Core units sold separately Multiple Access Points - The Shimoda Action X50 backpack offers rear and side access options. The side opening is ideal for quick, under-the-arm access without completely removing the pack, and the rear opening allows wide, unobstructed access to the bulk of your gear for less time-sensitive shooting situations.
Adjustable Torso Height - The X50 has 4 height options with approximately 10 cm (4 in) of vertical adjustment. This means the same backpack can fit short or tall — male or female — torso heights, ensuring a custom fit for everyone.
Core Unit Modular Camera Insert System - Core Units provide shockproof protection for Mirrorless, SLR and DSLR cameras and lenses, and they ensure a user never carries more padding and weight than necessary. A user can increase their layout options with two or more Core Units by stacking and shifting how they are placed in our camera pack.

Features:
Expandable Roll-Top - The roll top can expand with a volume range of 7-liters so the bag can be adjusted to your gear needs while maintaining a tight and compact fit.
Sport-Friendly Design - With action sport-specific features like a removable helmet holder, ski fastening straps, hydration routing and extra durable materials to help protect the pack from abrasion, Action X packs are designed to perform seamlessly for photographers and filmmakers who like to be embedded in the action.
16-inch Laptop Sleeve - Rear pocket fits a laptop up to 16 inches, such as the MacBook Pro 16.
Extra Supportive Shoulder Straps - Shimoda rethought shoulder strap design and created a weight distributing shape and fit to help support the load of a camera bag. Instead of the weight of the bags pulling backwards like most common camera bag harnesses – our straps distribute weight across the chest area. Paired with our bear-hug like fit, shifting weight to the hips and front torso translates into more physical energy and mental focus to use on your photo adventure. The straps also feature a mobile phone pocket and a second expandable pocket for larger accessories or a water bottle.
Removable Hip Belt - Our EVA molded belt design features a cutout shape that comfortably secures around the top of the hip bone. The belt includes a mesh sleeve to quickly stash trash, and a gear loop to temporarily hang items from. The loop is ideal for carabineers, ice axes and even small tripods. The belt is also removable for days with lighter loads, or for travel and events when you want a little less bag to pack around. Simply unfasten the belt from the rear access panel and slide it out.
Mobile Office and Snack Bar Pockets - Each shoulder strap features a fast access pocket for commonly accessed items. The right side has a stretch spandex sleeve that can securely accommodate snacks, water bottles, sunscreen and two-way radios, and the left side features a zippered mobile phone pocket. The mobile pocket even has a cable routing port to connect a portable battery. Having key items within easy reach means never having to think about removing the pack for simple tasks like checking messages or refueling, which in turn saves energy for when it's really needed.
Removable Helmet Holder - A simple accessory that lets you carry most styles of adventure helmets on the back of your pack. Especially ideal for mountain bikers and mountaineers who don't always need to wear a helmet in hot situations. Made from a durable jersey, the main body of the holder stretches to allow it to wrap around the helmet and hold it in place. The inside of the holder includes sticky silicone dots that provide extra grip so the helmet stays in place.

Lightweight Water-Resistant Materials - The outer shell of each pack is unique to Shimoda. It utilizes a Carbonate Ether PU formula of mixed, proprietary resins to create an extremely durable coating. The increased durability provided by the coating allows the use of lighter weight nylon without compromising strength, toughness or water repellency.
Multi Configurable Front Panel - The front panel webbing attachment system allows you to carry various photography and mountain tools on the exterior of the pack. Users can secure numerous tripods, skis, ice axes or a snowboard. Each strap features a glove-friendly YKK® side-release buckle.
EVA Compression Molding (Shoulder Straps, Belt and Rear Panel) - Shimoda packs use EVA compression molding techniques to provide superior comfort, padding and protection in critical body-contact areas of the bag. EVA also allows refined quality control and construction.

Versatile Front Panel Pocket - The large front panel pocket is ideal for numerous oversized items like a jacket, sleeping bag or tent, laptop in a padded case, or avalanche safety equipment.

Hydration Bladder Sleeve and Routing - The front panel also features a sub-pocket and hanger loop designed to fit a hydration bladder up to 3L. It has dedicated routing to run the hose through the exterior rear panel and onto the shoulder straps.

Free Standing Padded Base - Our base features a lightly padded panel to add more protection when placing the pack down. The shape was designed so the pack will be able to stand without any assistance. The base panel also features two ventilation holes to limit any potential condensation buildup inside the base area.

Water-Resistant Splashguard YKK® Zippers - We use YKK SplashGuard (RCPU) zippers in critically exposed areas of the backpack. RCPU zippers help prevent rain, snow and sand from entering your bag.