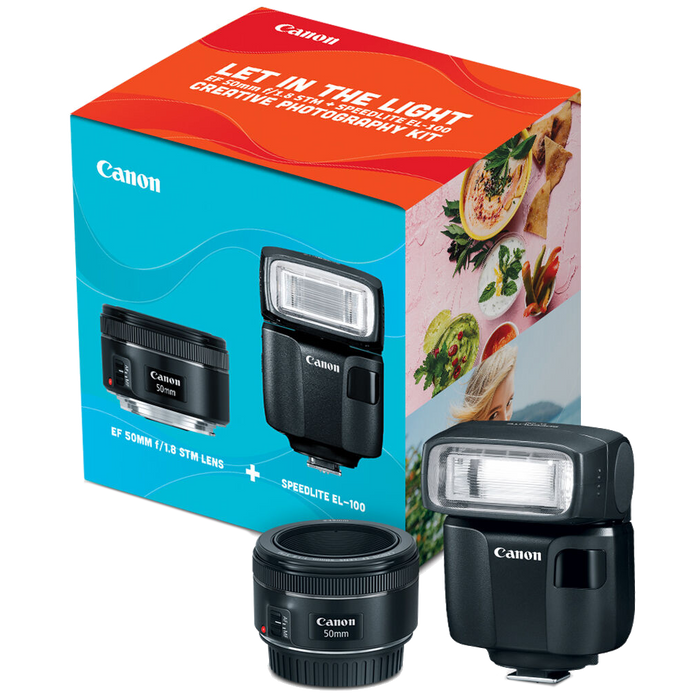 Canon EF 50mm f/1.8 STM Lens & Speedlite EL-100 Creative Photography Kit
Original price
$274.99
-
Original price
$274.99
Current price
$274.99
$269.99
With the Canon EF 50mm f/1.8 STM Lens & Speedlite EL-100 Creative Photography Kit you'll be prepared for almost any scene in almost any lighting situation. Need a portrait and something to fill in the shadows in daylight? Come across an interesting moment but it's too dark to capture? Both the lens and flash are compact and lightweight so they can accompany you anytime and anywhere, meaning they're at the ready when needed.
The EF 50mm has a large f/1.8 aperture so it's ideal for low-light photography and creating beautiful background blur, while the EL-100 can swivel and bounce so you can easily provide light to your subject, either directly, off the ceiling, or however you choose. Each can be used with a variety of compatible Canon cameras whether mirrorless or DSLR, full-frame or APS-C.
When used with an APS-C camera, the EF 50mm f/1.8 STM lens has an effective focal length of 80mm. Make your photos and videos literally light up and stand out with this impressive combination.
EF 50mm f/1.8 STM Lens
Features:

Compact, lightweight fixed focal length lens ideal for everyday photos, and with a large f/1.8 aperture, a perfect lens for low-light photography and creative background blur.

80mm effective focal-length when attached to an APS-C camera, optimal for portraits and photos of fast moving subjects such as children and pets.

A stepping motor (Gear-type STM) supports the Movie Servo AF function in providing smooth and quiet continuous AF during video recording, as well as when shooting photos.

Improved exterior design includes new focus ring placement making it the most compact Canon 50mm lens.

Metal mount helps provide stability and ruggedness.

Optimized lens placement and coatings help deliver outstanding color balance, while minimizing ghosting and flare.

Circular aperture (7 blades) helps deliver beautiful, soft backgrounds.

Minimum focusing distance of 1.15 ft. (0.35m); maximum magnification of 0.21x.
Speedlite EL-100
Features:

Compact, Versatile and Easy to Use Speedlite.

Horizontal and Upward Bounce Rotation Capability.

Maximum Guide Number of Approx. 85 ft./26m at ISO 100.

24mm Wide-angle Coverage.

Optical Wireless Flash Function (Sender and Receiver).

Flash Exposure Control Including Support for Stroboscopic Flash and Continuous Shooting.

Camera-linked Functions Including Interlocked External Flash Power On/Off.

Mode Dial with AUTO Position.