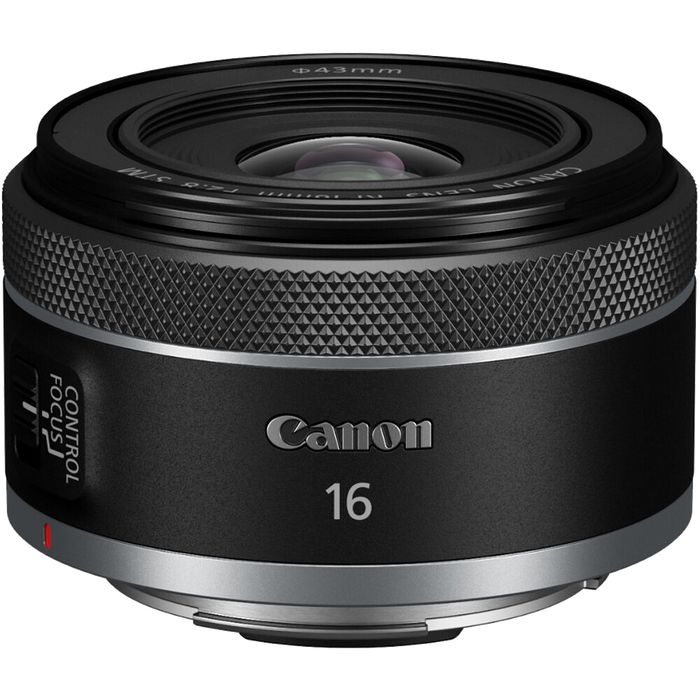 Canon RF 16mm f/2.8 STM Lens
Original price
$299.99
-
Original price
$299.99
Current price
$299.99
$249.99
Compact, versatile, speedy and affordable, the new Canon RF 16mm f/2.8 STM Lens is a terrific complement to any EOS R series digital camera. Offering an ultra-wide angle of view and a bright f/2.8 aperture, it's an excellent choice whether taking interior photos in tight spaces, seeking out the perfect landscape, or as the perfect webcam lens when used in combination with an EOS camera and EOS Webcam Utility on a video call. With a 16mm F2.8 lens, you can experiment with enhancing perspectives, capturing starscapes, or with the close focusing distance of 5.11 inches, get up close to your subject while still keeping the background more visible. Video users will find this ultra-wide lens a natural for vlogging, especially with its supremely light weight.
With its remarkable combination of optical excellence and refined performance, all in a small package that's easy to bring most anywhere, the RF16mm F2.8 STM is a stellar companion to any EOS R series digital camera.

Features:
Canon's first ultra wide-angle, fixed focal length RF lens.
High image quality and bright, fixed f/2.8 maximum aperture.
A stepping motor (gear-type STM) that provides smooth and quiet continuous AF during video recording.
Supremely lightweight and compact, for an ultra-wide lens for full-frame cameras.
Minimum focusing distance of 5.11 inches and maximum magnification of 0.26x.
Control/Focusing Ring can directly adjust numerous settings.