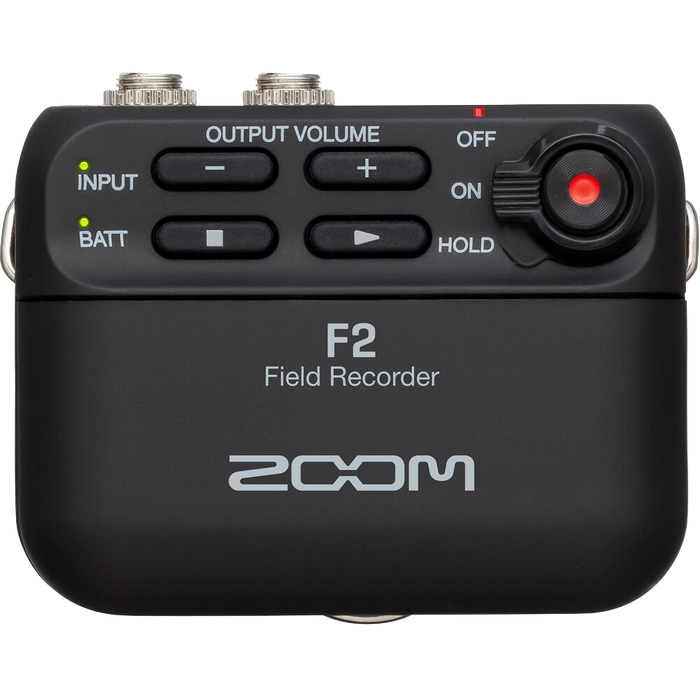 Zoom F2 Ultracompact Portable Field Recorder with Lavalier Microphone
Original price
$179.99
-
Original price
$179.99
Current price
$179.99
$179.99
For podcasters, videographers, bloggers, journalists and more, the F2 is the perfect audio solution for creators on the move.
 The F2 features 32-bit float recording technology, allowing you to record the loudest audio signals without worrying about clipping. It will also record the quietest signals in beautiful detail. And the best part is you don't have to worry about setting the gain. Just plug in the lav and hit record.
The F2 Editor for PC and Mac allows you to adjust settings, format SD cards and more. Simply connect your F2 or F2-BT via a USB cable and launch the editor. The USB connection also makes it easy to transfer files to your computer.
Features:
Light and compact audio recorder
32-Bit Float recording for full dynamic range and clip free recording
No gain adjustment necessary
Records 44.1kHz/32-bit float or 48kHz/32-bit float audio files
Rec Hold function to avoid accidental operation of buttons
1/8" Mic In mini phone jack with Plug-in power (2.5V)
Stereo ⅛" Phone/Line Output jack with dedicated volume control
80 Hz low cut filter
High precision internal clock to avoid audio and video syncing issues
Wireless timecode synchronization (F2-BT model only)*
Records directly to micro SD, SDHC, and SDXC cards up to 512 GB
USB-C for connection to F2 Editor for settings
Runs on only 2 standard AAA alkaline, Lithium, or NiMH rechargeable batteries, or AC adapter (AD-17)
Up to 15 hours of operation (14 hours on the F2-BT) with two AAA alkaline batteries
Specifications:
F2-
Connector: 3.5 Mm Stereo Mini (With Screw Lock) Supports Plug-In Power (2.5 V)
Input Gain: None (Dual Ad Conversion System)
Input Impedance: 2 Kω Or More
Maximum Input Level: −5.5 Dbu
Connector: 3.5 Mm Stereo Mini (With Screw Lock)
Maximum Output Level: 20 Mw + 20 Mw (Into 32Ω Load)
Flash Cards: Compatible With Microsd/Microsdhc/Microsdxc Specifications (Class 4 Or Higher, 512 Gb Maximum)
Recording Format: WAV 44.1Khz/32-Bit Float, 48Khz/32-Bit Float Mono, Bwf Format Supported
Additional Connection: Usb Type-C
Mass Storage Operation: Usb 2.0 High Speed
Pc App Operation: Usb 2.0 High Speed
Power: 2 Aaa Batteries (Alkaline, Lithium Or Rechargeable Nimh Batteries) Ac Adapter (Zoom Ad-17): Dc 5 V/1 A
Continuous Recording Time When Using Lavalier Mic (48Khz/32-Bit Float):
Alkaline Batteries: About 14 Hours
Nimh Batteries (750 Mah): About 10 Hours Lithium Batteries: About 18 Hours
The Above Values Are Approximate.
Lavalier Mic- 

Connector: 3.5 Mm Stereo Mini (With Screw Lock)
Directionality: Omnidirectional
Sensitivity: –32 Db/Pa At 1 Khz
Maximum Sound Pressure Input: 115 Db Spl
Cable Length: 160 Cm