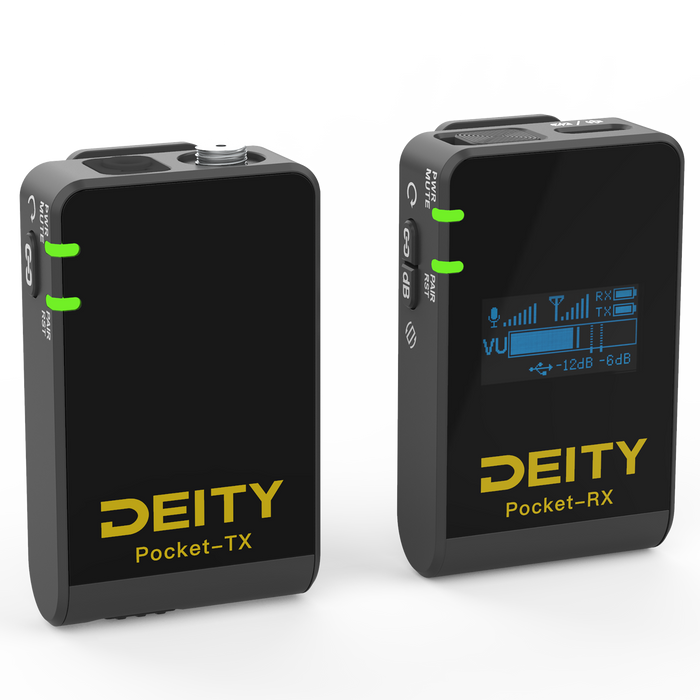 Deity Pocket Wireless Microphone Kit
Original price
$169.99
-
Original price
$169.99
Current price
$169.99
$169.99
Deity Pocket Wireless Microphone Kit is the newest wireless offering from Deity Microphones - a compact wireless microphone kit capable of natively working with both cameras and smartphones. We developed Pocket Wireless to have the ergonomics that modern content creators and videographers have come to expect from micro wireless systems.
What makes Pocket Wireless Different?
1. Range: While other brands use 4mW Bluetooth 5.0 chips, we utilize a proprietary 25mW protocol to create the Pocket Wireless' digital RF signal. We tested to make sure it offers reliable signal strength even when talent blocks the transmitter's line of sight to the receiver.
2. Plug and Go: Our TRRS cable automatically adapts itself to work with any 3.5mm audio input you plug it into. It will work with every DSLR, video camera, or audio recorder on the market.
3. Wireless USB Microphone: The Pocket Wireless receiver can be plugged into the USB port on your laptop, PC, or even your phone and work like a USB microphone with the transmitter's built-in mic or the included lavalier. Working or teaching classes from home via apps like Zoom has never been so freeing. Now you can do presentations and still capture crisp clean audio as if you were right in front of your laptop.
4. Ready Out-of-the-Box: Pocket Wireless ships with everything you need to get the job done. Customers don't have to worry about coming back to your store and having to track down some rare accessory to get it to work. Every accessory needed to capture great audio ships all in one box.
Features:
Dual-Function Clips: both the transmitter and receiver feature clips that act as belt clips and cold shoe mounts
25mW transmitter with one-button pairing
Wirelessly compatible with the entire Deity Connect ecosystem
USB-C connection for phones, laptops, PCs and Mac
TRRS connection for phones, cameras, video cameras and audio recorders
OLED Display – battery life, audio levels, signal strength, audio gain, recording status (when paired to the Deity HD-TX, not included)
OLED Display rotates to accommodate different mounting options
Includes: transmitter, receiver, USB-C cable, TRRS cable, lav microphone, fur windshield, rigid carrying case