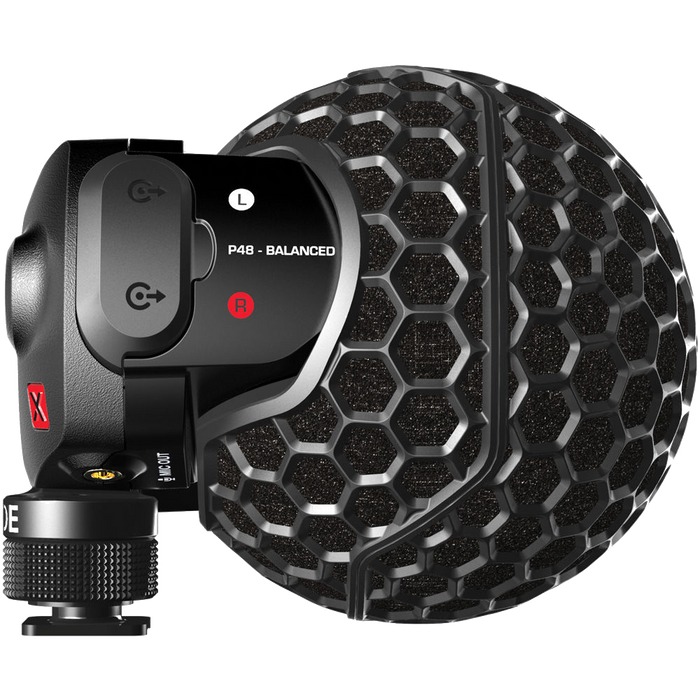 RØDE Stereo VideoMic X
Original price
$599.00
-
Original price
$599.00
Current price
$599.00
$599.00
The Stereo VideoMic X is the ultimate broadcast-grade stereo microphone for on-camera use. Utilising all-metal construction, it is incredibly robust making it ideal for regular professional use, while also providing high levels of resistance to RF interference.
The mic features a matched pair of ½" true-condenser capsules, configured in a stacked X-Y configuration, providing a highly-immersive soundscape. Each capsule is supported by the Rycote® Lyre® shock-mounting system, providing isolation from vibration as well as knocks and bumps.
Digital switching on the rear of the SVMX allows the user to control the level adjustment (-10dB or +20dB), high-pass filter (0/75/150Hz) and an innovative high-frequency boost (+6dB @ XHz) designed to boost the intelligibility of dialogue.
In a first for the VideoMic range, professional-grade balanced outputs are available on the side of the body, in addition to the RF shielded 3.5mm stereo output cable.
An outer dome structure provides physical protection for the sensitive capsules, while reducing wind noise in the same manner as RØDE's RedDot-winning Blimp.
Features:
Acoustically matched true condenser capsules
Rycote® Lyre onboard shock mounting
Balanced professional XLR output
Heavy-duty, lightweight aluminium construction
High Pass Filter
9V or Phantom Power (P48 - via miniXLR)
Level adjustment
High Frequency Boost
Includes SC2 TRS cable, pop shield and wind shield
10 year extended warranty when you register your microphone